FEBRUARY – TWO THOUSAND EIGHTEEN
VCBA MISSION STATEMENT
To promote legal excellence, high ethical standards and professional conduct in the practice of law; to improve access to legal services for all people in Ventura County; and to work to improve the administration of justice.
Alice Arnold
Rachel Coleman
Jonathan Gunderson
Karen B. Darnall
Rachael J.Kimball
Panda L. Kroll
Carol Mack
Michael L. McQueen
Rabiah A. Rahman
Lauren E. Sims
Michael R. Sment
Kathleen J. Smith
Al Vargas
CITATIONS is published monthly by the Ventura County Bar Association. Editorial content and policy are solely the responsibility of the Ventura County Bar Association.
Submit all editorial matters to:
CITATIONS
1050 S. Kimball
Ventura, CA 93004
t: 805.659.6800
f: 805.659.6818
wlascher@fcoplaw.com
| | | |
| --- | --- | --- |
| KATHLEEN J. SMITH | | THOMAS FIRE LITIGATION |
|  LINDSAY F. NIELSON | | THINKING THINGS OVER – THE GRAND JURY: WHAT IS IT? |
| CHRIS GRAHAM | | NEED TO COMMUNICATE COMPLICATED STUFF? TALK ABOUT PEOPLE |
| PANDA KROLL | | CANNABIS AND COMMERCE |
| LAUREN SIMMS | | BRIDGING THE GAP |
| | | BENTON, ORR, DUVAL & BUCKINGHAM ANNOUNCES TWO NEW SHAREHOLDERS |
| | | INN OF COURT WINNERS! |
| STEVE HENDERSON | | EXEC'S DOT…DOT…DOT… |

PRESIDENT'S MESSAGE
Rebuilding: What to consider
before and during home rebuilds
by Mark Kirwin
Once again, this President's message comes during a tragic natural disaster. This time it is happening to our neighbors in Montecito. Words cannot accurately describe the sorrow we all feel for those who lost their lives in the flash flood. We offer our condolences and prayers to all their families and loved ones.
We were luckily spared further devastation from the rains in Ventura but our housing crisis still remains. Many stories have circulated on what needs to be done to rebuild homes destroyed by the fire. Although I framed houses in high school, paid my way through college as a welder and practice construction law, I thought it would be best for an expert general contractor to answer these rebuild questions. So, after discussing the matter with my good friend and fellow Rotarian Dale Jaedtke, he offered the following items to consider before and during home rebuilds:
• In negotiating with your insurance company, it is important to not finalize your settlement until you know all your costs and expenses. Check your policy for cost replacement and building code upgrade endorsements.
• Contact the city for any prior plans or permits regarding your residence.
• Obtain a survey of the existing house/foundation layout and setbacks before any demolition work. This is important due to possible new city setback requirements. The structure's original setbacks are grandfathered in so the new house can be built in the same location.
• Obtain a topography layout of your existing property prior to any demolition, showing existing conditions, elevations, including your prior roof height. That way, if you run into any height restrictions you can refer back to the original height, which may exceed what is currently approved.
• Let the state do the debris removal since the area was declared an emergency and a disaster area. The state will remove your debris and is supposed to charge you only the amount of the demolition reimbursement included in your homeowner's insurance policy. According to the building community's discussions with Ventura Building Director, Jeff Lambert, the state is supposed to pay the remaining demolition costs. The city expects the debris removal to start in January and be completed within 90 days.
• More than likely you will need a soils report to determine what type of footings you will need to rebuild your house, since the building codes under which it was originally built no longer apply and the current codes are stricter.
• Contact a contractor to start the process of rebuilding. They can give you architects, if you need new plans, a draftsman if you just need to update existing plans, a structural engineer if necessary due to lack of existing plans. Contractors have a more realistic handle on the costs to rebuild. It is important to form a team from the beginning where everyone is on the same page and striving for the same goal: build your new house the way you want it within budget.
• If per chance your slab can be salvaged, it would need to be certified by a structural engineer; then you could add structural improvement to that slab. Bear in mind that concrete becomes structurally compromised at 500 degrees, glass melts at 570 degrees. Of the many damaged homes that Dale has seen, there appears to be no remaining glass, unless it was tempered. This means the fire was so hot it vaporized the glass. The fire temperature was therefor far hotter than 570 degrees.
• Be sure to comply with any homeowners association's CC&Rs.
• Your new residence will need to be built with a fire sprinkler system. Build your new residence with the latest fire safety technologies; it will be well worth the price should this ever (God forbid) happen again.
• Build the house keeping in mind that you will be getting older and may want things like: single story (if not already), handicapped bath, shower, etc.
• Make sure that you get all the finish products that you want listed and described (in a description of materials list) so that there are no mistakes or misinterpretations of what your finished product will look like and cost.
• Make sure your contractor is licensed and insured with general liability and workers compensation insurance. You can check if they are licensed and insured by going to: https://www2.cslb.ca.gov/onlineservices/CheckLicenseII/checklicense.aspx
• Remember, all these things will take time to accomplish, so be prepared for a long process – especially with the amount of work that needs to be done and the availability of qualified people to do it.
• Remember, if someone is telling you something that is too good to be true, it probably is.
Thank you to Dale for these pearls of construction wisdom!
Mark Kirwin, 2018 Ventura County Bar President, is a civil litigator at Kirwin & Francis, LLP, and is Director of the Kirwin International Relief Foundation.
THOMAS FIRE LITIGATION
by Kathleen Smith
Litigation is beginning to develop on the post-Thomas Fire legal landscape in Ventura County.
Allen Ball and Joseph Rocco Jones of Ball & Yorke, with Brian Weilbacher, filed a complex class action. Melring vs. Southern California Edison Company, an inverse condemnation action alleging So Cal Edison caused the Thomas Fire, is pending in Department 21 and will be adjudicated by Judge Kent Kellegrew.
Five mass torts lawsuits are also on file. Alexander Robertson of Westlake Village filed five cases (Lewis, Scantlin, Martinez, Swart and Ramser), and Lee Gibson of Ventura filed one (Poindexter). Robertson was quoted in the Ventura County Star as criticizing So Cal Edison for doing construction during Santa Ana winds, which ignited dry brush, and criticizing the city and the water district for lack of water pressure in their fire hydrants. Robertson has co-counsel in Ramser: Mark Uyeno, Geoff Spreter, Benjamin Petiprin, and Jeffrey Bennion.
Lewis, the lowest numbered case filed by Robertson, is assigned to Department 43. Defendants in Lewis are Southern California Edison, the City of Ventura and Casitas Municipal Water District. Lewis, Scantlin and Ramser are class actions.
Robertson filed Notices of Related Cases to relate the various cases. If all of Robertson's related cases are consolidated to the lowest numbered Lewis case, they would all go to Department 43 and be adjudicated by Judge Kevin DeNoce.
Poindexter, filed by Lee Gibson with Ed Diab, John Fiske, and John McGuire, is assigned to Department 42 and will be adjudicated by Judge Harry Walsh.
As of publication, a Proof of Service has been filed in Poindexter, and no Proofs of Service have been filed in any of the other cases. In each case except Ramser, a Petition for Coordination under JCCP 4965 has been filed by plaintiff.
No responsive pleadings have been docketed.
THINKING THINGS OVER – THE GRAND JURY: WHAT IS IT?
by Lindsay F. Nielson
How many times have you read in the paper that a Grand Jury has been assembled and is hearing evidence of a crime? "What the heck is that?" you probably thought to yourself.
Way back in the Dark Ages (1971), I was appointed by the late Judge Jerome Berenson to serve on the Ventura County Grand Jury. At that time, my two bosses had each served on previous Grand Juries, and they wanted me to learn about Ventura County governmental operations and to have that opportunity. Thanks to my bosses, I served 155 days (anywhere from half an hour to eight full hours at $5.00 per day compensation). It was the greatest lesson in civics you could ever ask for. As a result, after I completed my year of service, I became very interested in the concept and did some research on the history of the Grand Jury.
As many of our legal concepts did, the idea of a Grand Jury began soon after the noblemen of England forced King John to sign the Magna Carta. Originally, the King had absolute powers to charge and imprison any one of his subjects. This struck many of the nobility as profoundly unfair, and so they decided that each shire (county) would empanel a group of noblemen  when the King ordered his sheriffs to charge someone for a perceived violation of the King's laws or his will.  This group of selected citizens from the shire where the subject was to be charged and tried would have to agree that there was merit to the King's accusation.  They would know the individual and the likelihood that he was a scoundrel.  If these dozen or so good citizens didn't think that the individual charged would have committed the transgression against the King's laws, the suspect could not be tried.
When our Founders adopted our Constitution, they included this Grand Jury concept into our fundamental governmental document. All major federal crimes must  first be brought to a Grand Jury before an indictment can be issued. But that is not the same in California.  Prosecutors may bypass the Grand Jury procedure in favor of a preliminary hearing before a judge.
California also provides for civil Grand Jury  investigations. Each county's Grand Jury may investigate and suggest changes in governmental operations, look for corruption, and shine the spotlight on activities or people whom the collective body of the Grand Jury believes should be exposed.  The Grand Jury may also investigate and charge people with crimes.
In 1971 there were a rash of assaults by an individual the newspaper dubbed the "Pierpont Rapist." There was intense pressure to solve this crime. The District Attorney convened the Grand Jury and presented a witness for examination. She inadvertently asked the Deputy D.A. "Did you tell them about the fingerprint?"  Well, he hadn't.  When the witness left, we asked him about this fingerprint.  The deputy D.A. said it was nothing.  Actually it turns out, it wasn't the suspect's fingerprint – yet this information would have been denied the Grand Jury if we had not asked.
The standard for an indictment is very low.  "If the information the District Attorney presents is totally unrefuted, would you vote for conviction?"  With that standard, it is often said that a Grand Jury can indict a ham sandwich. Totally unrefuted? But, to balance that low standard, the law requires the prosecutor to present exculpatory evidence also, a requirement that was (and sometimes is) overlooked in the zeal to take intense public heat off a prosecutor's shoulders.
When our Ventura County Grand Jury learned of the fingerprint omission, we called the District Attorney into our hearing room.  We informed him that in the future, before his deputies come into our hearing room, we would require them to be sworn in before they said "Good morning, ladies and gentlemen."  And, if he (or she) said that, we were going to look out the window; if it weren't a "good morning" we would nail that prosecutor for perjury.  The District Attorney's office didn't bring any further criminal matters to the Grand Jury that year, choosing instead to go the preliminary hearing route.
We also looked into citizens' complaints about various agencies and suggested changes.  In 1971 there were 51 department heads who reported directly to the County CEO. If the CEO spent just one hour with each of the managers, it would be nearly a week and a half to go through them all.  The Grand Jury suggested it would be more efficient to group related departments into agencies, and that way the agency managers could keep the CEO informed.  When the annual grand jury report was filed, each affected department would have 30 days to reply. Most department heads liked the status quo and objected to this idea for turf reasons.  However, within five years our recommendation was enacted, and today there are only about eight or so agencies rather than the unwieldy 50 or more departments reporting to the CEO.
Grand Juries provide an important governmental oversight function for citizens. They can also provide a shield from an overzealous prosecutor.  Their deliberations are in secret and their final reports are a collaborative effort.  No one individual can dominate the direction or conclusion of their investigations.
Today, rather than the so-called blue-ribbon approach to selecting citizens to serve on Grand Juries, names are proposed just as regular juries are selected, from driver's license and/or voter rolls. But due to the requirements for serving for one year, many citizens cannot afford the time from their jobs or families. Nonetheless, others who can serve allow Grand Juries to provide a very important check and balance in our form of government.
Lindsay Nielson is an appraiser and attorney who practices in Ventura. He can be reached at Nielsonlaw@aol.com
NEED TO COMMUNICATE COMPLICATED STUFF? TALK ABOUT PEOPLE
by Chris Graham
If you speak English and only English, does it make sense for me to explain something to you in French – even if I speak slowly? Of course not.
While you probably never make this specific mistake with your clients, almost all of us commit a version of it on a regular basis. We try to explain complicated legal problems using what we consider to be "simple" or "basic" legal language.
"Let's start with the basics …"
"Tell me if I'm going too fast …"
Sound familiar? The result is almost inevitable: No matter how slowly you talk or how clearly you break down your points, many clients still get confused.
Failure to Communicate: What's Going On?
To be sure, using big words and jargon are roadblocks to understanding. Research also shows that experts tend to overestimate the knowledge of their audience – a cognitive bias called "the curse of knowledge," meaning that even when you think you're being accessible, you're probably not. (See "The Curse of Knowledge" by Chip Heath and Dan Heath in the Harvard Business Review.) Hence why "dialing down" the detail can only go so far, and why sometimes it seems like no amount of simplification gets your point across. The real problem, it turns out, is forgetting to talk about people.
Socially Encoding Your Information
To see how it's easier to make sense of people instead of rules and concepts, take two minutes to try the following puzzles, variations of what is known as the Wason Selection Task.
Look at these four cards:

You need to verify that the following rule holds: If a card has a D on one side, it must have a 3 on its other side. Which card(s) must you turn over to check if the rule holds?
The answer is: D and 7. Not D alone. And not D and 3, because the rule doesn't say that a 3 must have a D on the reverse. The answer is D and 7 because if you turned over the 7 and it had a D on it, the rule would be broken.
If you got that wrong, you're in good company: On average, 75 percent of people get it wrong.
Now look at these four cards:
You're a bartender, and you need to make sure that anyone drinking in the bar is over 21 years old. Each card represents information about one of your four patrons. One side shows what they're drinking, the other their age. Which card(s) do you need to turn over to see if everyone drinking beer is over 21?
The answer is: "beer" and "16." Put another way: If you saw someone drinking beer, you'd check their age; and if you saw someone who looked underage, you'd check what they were drinking.
Did you find the second puzzle easier? 75 percent of people get this version right.
The thing to notice about the puzzles is that they present the same problem two different ways. The first version is abstract, at the level of rules and concepts. The second is at the level of people in familiar situations.
Using the Language of Real People in Your Practice
It's a mistake to think the second version of the puzzle is somehow easier or "dialed down." Instead, think of the second version as being in a language that almost everyone understands: the language of real people.
How can you use this language in your practice? As much as you can, try to illustrate what you mean using examples that involve real people in real life situations.
For example, don't just recite the legal requirements for a partnership (i.e., two or more people carrying on business with a view to profit). Instead, add to that definition something like the following:
If you kick in money and your friend kicks in money, and you use that money to rent an office and conduct meetings to sell consulting services, you and your friend are in a partnership.
You probably use this language already, but do you do it every time you explain something to clients or colleagues? Do you break down hard problems in terms of their effect on real people?
Remember: While your brain might be good at understanding legal problems, everyone's brain is good at understanding people.
Chris Graham is the founder of TellPeople, a vehicle for teaching communication and storytelling to lawyers. Twice-retired from law himself (first in New York, then in Toronto), Chris is now an entrepreneur, producer, investor and storyteller. Trough TellPeople, Chris makes lawyers better at talking to their clients, each other and everyone else. @tell_people.
By Panda Kroll
"Los Angeles is drafting rules to allow marijuana greenhouses, industrial processing facilities and recreational retail shops that combined could net the city more than $50 million in tax revenue next year…. Before too long, Ventura County residents will be taking their pot dollars to L.A. along with their sports and entertainment cash. We're not saying that's right or wrong. All we know is that in an estimated $7 billion California industry endorsed by voters and expected to generate $1 billion in tax revenue, Ventura County is behind the curve." While many Ventura County cities have banned commercial cannabis activities, some of our cities are joining our neighbors to the South and North by taking the plunge into cannabis commerce.
As of Jan. 2018, 30 states, and the District of Columbia, Guam and Puerto Rico all authorize cannabis use (either for medical use, or in the case of eight of these states, for recreational or "adult" use). In California, possession of cannabis for medical use was decriminalized over two decades ago, and following the passage of Prop 64 by a generous margin (56-44 percent in Ventura County), California recently enacted a regulatory scheme that incorporates recreational use of cannabis, the Medicinal and Adult Use Cannabis Regulation and Safety Act (MAUCRSA).
Beyond permitting personal use of small amounts of cannabis by adults in the privacy of their homes, the new regulatory scheme permits California cities and counties to self-determine whether to ban or regulate the cultivation, manufacture and sale of cannabis.
If a city or county permits cannabis activities, the cannabis entrepreneur may pursue a state license. There are three new state licensing authorities, each of which regulates a different aspect of the commercial cannabis market:
• "Bureau of Cannabis Control," CA Department of Consumer Affairs – responsible for licensing cannabis retailers, distributors, third-party testing laboratories and microbusinesses.
• "Manufactured Cannabis Safety Branch," CA Department of Public Health – responsible for licensing manufacturers of cannabis products
• "CalCannabis Cultivation Licensing," CA Department of Food & Agriculture – responsible for licensing cannabis cultivators and operating the state's Track-and-Trace system
In Ventura County, Ojai has granted permits to three medical cannabis dispensaries, and Port Hueneme has granted two. Port Hueneme is taking additional applications for medical and recreational dispensaries, delivery, cultivation and product testing. Thousand Oaks is taking applications for one medical cannabis dispensary and one testing facility. Non-refundable application fees are around $10,000-$15,000.
Mobile delivery services proliferate in the state and in Ventura County. Regulation of these services is in its infancy. Although Thousand Oaks and Oxnard are both considering permitting cannabis deliveries to patients within city limits, at this time, only the cities of Ojai and Ventura have enacted ordinances allowing medical cannabis deliveries to qualified patients from licensed dispensaries. The Ventura ordinance bans deliveries from dispensaries from other counties. Deliveries of cannabis by licensed dispensaries to qualified patients who live in unincorporated areas of the County of Ventura also appear to be authorized.
Thousand Oaks is holding an informational workshop to discuss and clarify the Cannabis Business application process on Feb. 5, 2018, 2-4 p.m. at City Hall, Scherr Forum Theater.
Panda Kroll is a member of the Citations editorial board. She is a shareholder of Benton, Orr, Duval, & Buckingham, PC. Panda will be presenting on Cannabis & Commerce on the following dates:
Feb. 9, 9 am – CAMARILLO CHAMBER OF COMMERCE: Las Posas Country Club
Feb. 21, 6:30 pm – CSUCI ARTS & SCIENCES LIBRARY LECTURE SERIES: Thousand Oaks Library
Feb. 23, 12:00 pm – VCBA CPA/LAW SOCIETY: North Ranch Country Club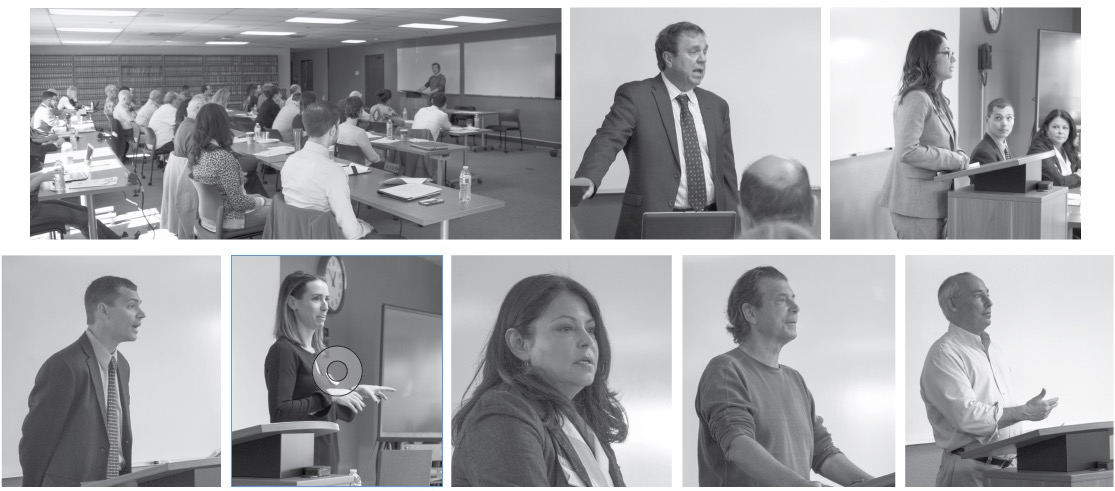 On January 13, 2018, the Ventura County Bar Association Barristers held Bridging the Gap, a conference hosted every other year to provide continuing education to the Ventura County legal community and beyond.  This year, attendees learned about mindfulness meditation from Tom Lane (top left and center); insurance matters from James C. Schaffer (top right); current issues in immigration from Rennee Dehesa (center left), Cesar Libanati (bottom left), and Gabriella Navarro Busch (bottom right); factors driving the current political climate from Professor Dan Schnur (center right); legal implications and steps to take when a client or colleague passes away from Katherine Becker (bottom center); and navigating the legal community from Judge Michele Castillo, Rachel Coleman, and Rabiah Rahman (not pictured).  The Barristers Board thanks all of the presenters and attendees for joining us for Bridging the Gap this year.
Please join the Barristers at our next MCLE event regarding guardianship of the person proceedings and the use of a power of attorney for the care of a minor child, Wednesday, February 28, 2018, at noon in Department J6 of the Ventura County Superior Court (Juvenile Justice Complex).  Additional information is available in the flyer enclosed in this issue of CITATIONS, as well as from bar@vcba.org.
BENTON, ORR, DUVAL & BUCKINGHAM
ANNOUNCES TWO NEW SHAREHOLDERS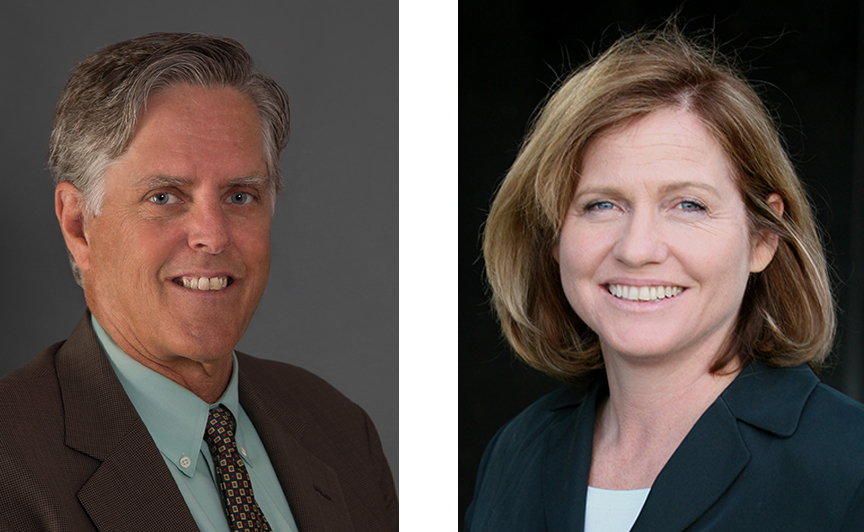 Benton Orr Duval & Buckingham, PC, established 1882, has announced the addition of Randolph Andell and Panda Kroll to its shareholder ranks.
Andell has twenty-two years of experience handling complex transaction and litigation matters including trust and estates, wills, probates, conservatorships, business formation and operation, landlord/tenant disputes, lease drafting and negotiation, real property title and boundary disputes and breach of contract cases. He is a member of the National Panel of Consumer Arbitrators.
Andell is an avid tennis player at the Buena Ventura Club and Pierpont Racquet Club, and enjoys snow and water skiing. Before becoming an attorney, Andell worked in the film and television industry in the art department and as a prop master, and the occasional stand-in role on productions such as The Wonder Years, Malibu Shores, Beverly Hills 90210, Tombstone, Pulp Fiction, Hard Target, Primal Fear, Tales from the Crypt, Friday the 13th part nine and Freddy's Nightmares.
Kroll is co-chair of the Ventura County Employment Law Section and has represented business owners in state and federal courts throughout the nation for the past seventeen years. Her practice includes wage and hour matters, discrimination and harassment cases, restrictive covenant disputes, regulatory compliance, and defamation defense. Complementing her litigation practice, Kroll provides day-to-day advice and counsel to employers, with special emphasis on litigation avoidance strategies.
She enjoys playing duplicate bridge in her free time. She also serves as adjunct faculty of California State University, Channel Islands, where she teaches courses on Biotechnology Law and Regulation and Business Law.

The Jerome H. Berenson American Inn of Court meets monthly September through May, at the Saticoy Country Club. Applications are still being accepted
(pro-rated) for 2018. Contact Sandra@vcba.org to join.
Each year, a winning team is awarded the James F. McGahan Memorial Excellence Award, a perpetual plaque with the names of each winning team member, which is displayed in Judge Harry Walsh's chambers.
The 2016-2017 winning team (pictured here) presented a program on "Pay to Play – Lawyer On-Line Reviews and What to do About Them," addressing ethical and legal minefields in responding to negative online reviews of legal services.
In the photo, from left to right: Master David Lehr, Barristers Carolyn Phillips and Kata Kim, Associate Kevin Flahavan, Emeritus Master Judge David Long, Barrister Panda Kroll and Associate Lauren Wood.
(Missing from photo: Master Michael McQueen, Barrister Steve Jump, and Associate Sean Perez).
by Steve Henderson, M.A., CAEs
Thanks to the witty personality of one particular attorney in our midst, it was pointed out eloquently that perhaps the sign on the bar offices front door is a bit misplaced. Going to have to agree in retrospect.…Benton Orr Duval & Buckingham has announced the addition of two attorneys to its shareholder ranks, Randolph Andell and Panda Kroll. Managing attorney Thomas Olson made the announcement in early January. Randy and Panda are regulars at bar functions and kudos to them for the promotion…
Law Librarian Dolly Knight is seeking extra help in the manner of a library technician to staff the law library for ten to fifteen hours per week, and as needed. Candidates should be available Mondays, Tuesdays, and/or Wednesdays, morning or evening. The pay for this position is $14.50 hourly. dollym@vencollawlib.org or 642.8982…The Family Law Bar has elected their new officers and directors for 2018. Shane Loomis, President; Susan Elston, Vice President; Karen Oakman, Treasurer; Marcia Kraft, Secretary; and Heather Kadeg, Lisa Sale, Felise Cohen, Iva Oza, Karen Socher, and Zoya Shenker, board members…
Authorities say an intoxicated Dallas woman who was on a first date with a prominent Houston trial lawyer caused at least $300,000 in damage to his art collection, including two Andy Warhol paintings.  Linda Lou Layman, 29, was arrested on criminal mischief charges after her date with Anthony Buzbee. Prosecutors say Buzbee, 49, told investigators that Layman got too intoxicated on their date, so he called her an Uber after they returned to his home. Buzbee said Layman refused to leave and hid inside the home and that when he found her and called a second Uber, she got aggressive. Authorities said she tore down several paintings and poured red wine on some while yelling obscenities. She also threw two $20,000 sculptures across the room and shattered them. The damaged Warhol paintings were each valued at $500,000 in court documents. Buzbee has represented high-profile figures, including former Texas Governor Rick Perry. Then-candidate Donald Trump also visited his home last year when Buzbee held a fundraiser and donated $250,000 to Trump's presidential campaign. Be careful out there!
Ventura County Trial Lawyers have elected a new slate of officers and board members for 2018. Christina Vanarelli, President; Erik Feingold, Vice President; Richard Bredlau, Secretary; Danielle Everson, Treasurer; and directors at large are: Marc Anderson, Margaret Coyle, Kevin Flahavan, Stephanie Johnson, Kerry Kinney, Susan McCarthy, Rob Miller and Randy Wells…Thailand? Vietnam? David Shain at 659.6800 or dshain@fcoplaw.com…
The Law Offices of Niedens & Groce, LLP, are screening for a full-time paralegal as their firm expands. Must have two to three years of experience, family law preferred. Submit resume and cover letter with salary expectation to Mallory@niednesandgroce.com...The law offices of A-Z has brought on two new associates. Elana Cuzzo and Robert Congelliere began their new jobs in December. Elana served as a law clerk for Judge Thomas B. Donovan of the U.S. Bankruptcy Court and drafted the opinion for Donovan's groundbreaking decision that declared the Defense of Marriage Act unconstitutional. She also speaks fluent Russian. Robert attended the J. Reuben Clark School of Law at BYU and while an undergrad there, he won two national championships with the volleyball team…
At the Chapter's black-tie gala in San Diego during its annual Institute of Family Law Trial Advocacy over the Martin Luther King, Jr. holiday weekend, Greg Herring was named the Family Law Person of the Year by the Southern California Chapter of the American Academy of Matrimonial Lawyers…There is a Legal Assistant out there looking for employment. She is readily available for indexing depos and records (medical and other) and has 20 years' experience, plaintiff and defense. She works remotely from her office. References and CV available. Alison Carlson at 901.1974…
Johnson Moore announced in December they hired an associate attorney by the name of Joanna Hutchins. Joanna clerked for them while attending Pepperdine Law School… Lastly, and as many of you know, the only civilian casualty of the Thomas Fire was a lawyer, Virginia Pesola. Undergraduate degree from the University of Wisconsin and her law degree from Loyola. She was admitted in 1981 and retired in October 2017…
Steve Henderson has been the executive director and chief executive officer of the bar association and its affiliated organizations since Nov. 1990. He and his family withstood the mighty floods in Montecito with minimal damage while being captive in his home for four days, then fourteen days evacuated. Thankfully, he knows a few attorneys. He may be reached at steve@vcba.org, FB, Twitter at steve@hendo1, LinkedIn, Instagram at steve_hendo, or better yet, 650.7599.