Decades of Memories
I met David 45 years ago at Ohrbach's department store in Los Angeles. I was the new stock boy and he was selling men's ties. Although it was a fairly large store, everyone knew each other, but did not always get along. When I started working there, David was the first to greet and welcome me to the store. I was immediately struck by the fact that he was one of the nicest and most genuine persons that I had ever met. Most of us who worked in the store were in our late teens and could be quite cruel to each other. If any of us were mean and inconsiderate to the other employees, David would always come to their defense and scold us for our behavior. Even then he was the protector of the defenseless.
After years at Ohrbach's, we all went our separate ways to seek our fortunes; we were earning $1.34 an hour when we left the store. Thirty years ago our paths crossed again and we were both lawyers, but we hadn't made our fortunes yet. I just assumed that he had changed his ways. I was wrong. David was still the caring and helpful person that I had known years ago when we were just teenagers. He was practicing in the field of workers compensation. I knew that it must have been on the side of the applicant, and it was. He was still the guardian.
David and I shared office space in Thousand Oaks for the last 20 years. When I would refer a client to him, the client would thank me for finding the most caring and helpful attorney they had ever met. One woman just called me a few weeks ago after learning of David's passing and asked how she will ever be able to work with another attorney – David had spoiled her. David left an incredible and loving wife and a wonderful son. David always spoke of both of them with love and pride. We are all better people for knowing this caring and giving man and exceptional lawyer. He will rest in peace.
Kenneth Yaeger practices medical malpractice law in Ventura County and the San Fernando Valley. He has been a LRIS panel member for more than 12 years.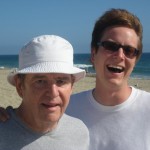 Mr. David H. Abramson and his Son.   
                                                                          Father's Day 2010.
                                                                Deceased September 28, 2010

Passing Hits Lawyer Referral Service Hard
The LRIS has many bright and talented attorneys, so when one of them passes on, it is a great loss to the service. Sadly such is the case with past LRIS attorney David Abramson. Mr. Abramson was a workers compensation and torts plaintiff attorney participating in the LRIS for more than twelve years.
Always wanting to be called David rather than Mr. Abramson, he would call like clockwork every Easter and Christmas time to take bar staff out to lunch. Not only would he treat us to lunch and interesting conversation, but would generously bring everyone in attendance a gift as well. Bar staff would later return the favor and give Mr. Abramson a sugar-free apple pie from Marie Callender's, his favorite.  He would always take the time to personally speak to his clients, and would regularly answer his own business calls to his law firm, always answering any question, no matter how big or small. I experienced this first hand when he became my workers compensation attorney for a case I had pending with my previous employer. Whenever I had a question, I was able to reach him right away and get a precise and clear answer to whatever my question might be. He would always tell me to call him with any concern  I had at any time, even on Saturdays, when he was known to work on a regular basis, or as he would say, "to catch up."
He was just as graceful with other possible clients as well. When I referred him to a friend for a workers compensation issue, my friend reported that Mr. Abramson was courteous and wise and was able to put his mind at ease regarding his workers compensation situation.   That was just the type of person Mr. David Abramson was, always considerate and clever and always a pleasure to be around. He will be deeply missed by all who knew him.
Alejandra Varela-Guerra is the Client Relations Manager at the Ventura County Bar Association.