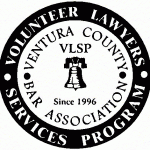 The Best Thing We Do!
Your Pro Bono Arm of the Ventura County Bar Association.  The Volunteer Lawyer Services Program, Inc. provides legal services to low income and indigent families and individuals.  Our Award Winning program was established in 1996 in response to a dramatic need to assist families and children with family law issues.  Additionally, the VCBA/VLSP, Inc., addresses senior citizens experiencing consumer fraud matters and tenant-landlord dilemmas

Since 1992, the Annenberg Foundation has contributed a total of $210,000 to the VCBA/VLSP, Inc., the Award-Winning Pro Bono Program of our Bar Association.  Regrettably, the foundation is drastically reducing its commitment.  In order to compensate for this significant funding crisis, the VCBA/VLSP, Inc. has established a Blue Ribbon Committee, chaired by past president of the bar, Jonathan Light (2007), to raise funds for our pro bono program. 
If you would like to join us in support of The Best Thing We Do, and join the other members of our Bar Association who have contributed, just in the last 30 days, $25,000 annually over 5 years to our capital campaign to support our Pro Bono work, please complete the form below.
We are a 501(c)(3) non-profit organization under the regulations of the Internal Revenue Service.  All contributions to this organization are tax-deductible to the extent provided by law.